YOSEMITE NATIONAL PARK




Check out our new:

small group
Contact us for specific dates
"Creativity is allowing yourself to make mistakes. Art is knowing which ones to keep."
- Scott Adams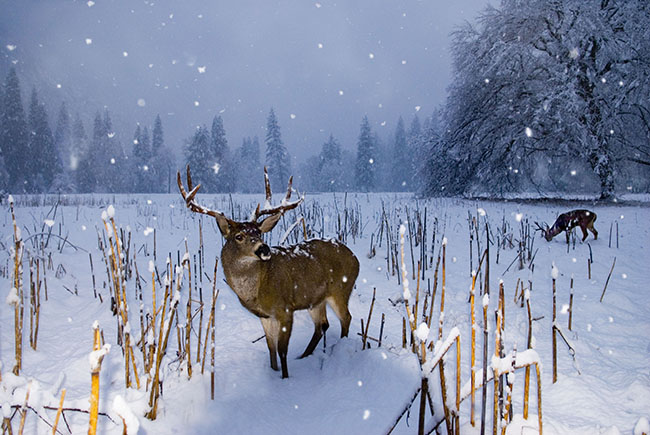 The deer are waiting for you. Call for more information or to make a reservation. This shot was taken this winter in Yosemite Valley.
Yosemite is one of the most stunning locations in the country and we will guide you to some of the most amazing sites Yosemite has to offer. The Yosemite Digital Vacation is a customized photography workshop designed to broaden your photographic skills and vision. This is a photography workshop for advanced or intermediate photographers. While we cover the basics of digital photography, this workshop is about making images. Our daily schedule has us outdoors shooting each morning early and some afternoons until after sunset.
With a professional guide who lives and works in Yosemite National Park and his intimate knowledge of Yosemite we will maximize the shooting experience. The instructor will be working with participants extensively one-on-one. This exciting workshop will inspire and focus your skills via hands-on experience both in the field and the digital darkroom.
Requirements: Each student will need to have a computer with a recent full or free trial version of Adobe Photoshop and/or Adobe Lightroom installed. If you don't have your own Laptop, arrangements can be made to rent one. In addition, each student will be required to have a Digital SLR (no point and shoots) with lenses, a sturdy tripod and plenty of memory cards. For the full list of requirements call or email us for our registration packet.
As each Digital Vacation is customized to accomodate the interests of the particpants attending, the itinerary will be sent 30 days prior to the workshop.
YOSEMITE IN THE SPRING- Post workshop following for two additional days. Wow, and more wow! This is the most fabulous time of year for Yosemite Valley. The wonderful waterfalls are flowing at their maximum and we will visit several of them. All the trees are getting new leaves and the grass is growing and the bears and deer are waiting patiently for you to come photograph them.

This workshop is a combination of amazing nature photography opportunities during prime daylight hours with mid-afternoon and evenings in the darkroom (Your laptop computer). Our guide has been a nature photographer for 25 years with many of those years spent in Yosemite teaching and as a hiking and photo guide. He knows Yosemite very well and will take us to some of the following places at appropriate times of day; Vernal Fall, Lower Yosemite Falls, Vernal Fall, views of Half-Dome and El Cap, Glacier Point, Mariposa Grove of giant Sequoias, and more. We will be doing a "Hands on" workshop from beginning to end, with you photographing continuosly throughout the day punctuated with instruction and suggestions of increasing your camera and visioning skills. Everyone should have a quality Digital SLR so that you have enough controls to benefit from the workshop. Tripods, external flash, and some filters may be helpful.

When not in the field taking photos, we will be in the darkroom processing the RAW images and creating beautiful images using Photoshop CS 3 and Light Room. B &W digital conversion techniques will be covered ,although the color image will certainly not be ignored. As a small group, emphasis will be placed on individualone-on-one time with the instructors will be a priority in order to accomdate each clien'ts personal interests and goals. We will help you get your digital darkroom skills up to the task with the control you need to make the beautiful images you want . If you do not have the two required programs, there are free trial programs available.
Class size is limited
Post trip adventure; Those wanting a little more time in Yosemite with the two instructors may elect to stay an additional two days to go to two special locations for more amazing scenic opportunities. These, two days will require a little bit more hiking but will be well worth the extra time. Tuolumne Meadows may be one option if the road is open that early, if not there are other fine places like the base of Upper Yosemite Fall , which is 1430 feet tall, a double wow on that for photography. The extra two days will add an additional $400 to your fees, and you will need to make hotel accommodations for those days as well.
Flights arrive daily in San Francisco, Oakland, San Jose, Sacramento, and Fresno. Fresno is the closest. Rental cars are the best way to get to Yosemite. Bring the whole family to Yosemite, there are endless things for them to do while you are in the workshop.

YOSEMITE AND THE EAST SIDE OF THE SIERRA FALL COLORS -
Post Workshop follows to Bristlecone Pine Forest
Wow again. This is the best time to get the beautiful fall colors along the Eastern Sierra. We will be staying in Lee Vining just down the hill from the Tioga Pass entrance of Yosemite. We will take photo excursions into Yosemite along the Tuolumne River and the Saddlebag Lake areas, visit the well preserved ghost town of Bodie, visits to Mono Lake for sunrise and sunsets, and drives up Lundy Canyon and others in search of the best fall colors. October at 8000 ft can be cool or cold so bring appropriate clothing. Our longest hiking adventures will not exceed 2 miles round trip. Everyone needs to have a quality digital camera with controls and RAW so that the workshop can be fully appreciated. Tripod, external flash, and filters are sometimes very useful. We will return to Lee Vining after each photo session to process our images in the darkroom of our computers. Everyone needs a laptop computer and the programs, Photoshop CS3 and Light Room. They can be downloaded as trial versions. Expect some late nights on the computer. Plan to go home with finished prints
worthy of showing to anyone.
Post trip adventure; Anyone wanting to see the Bristlecone Pine forests of the White Mountains? We will spend an extra two days journeying to these oldest of living things. Absolutely beautiful old wood in amazing shapes and colors and many still alive after 4000 years. This must be an overnight journey since its a several hour drive from Lee Vining. Everyone must have appropriate camping/sleeping gear for this trip.Its well worth the hassles of bringing extra gear for this adventure. See the Bristlecone photo below. Hundreds of fine trees like this one. Call for more information. The extra two days wil cost an extra $400 to your fees but no extra hotel accommodations are needed except upon returning at the end.
Come work on your photography skills with the Santa Fe Digital Darkroom. Leslie has taught numerous formal and private workshops at the Maine Photographic Workshops, American Photo & Nikon Mentor Series, The Santa Fe Workshops, and Anderson Ranch Art Center.
PRICING: Digital Vacation Workshop Price: $1950
To register for a workshop, contact us by phone 707.SEE FOTO or by email us at info@santafedigitaldarkroom.com

-- Transportation to and from the Airport to the Yosemite View Lodge is not provided
-- Breakfast and Lunch provided in the package price for all five days, dinners on your own
-- Payment via Check or Credit Card
-- Hotel accomodations not included in package price. We will be staying at the Yosemite View Lodge just outside the park
-- No lab fees