Santa Fe is a city renowned for its art galleries and museums, but it is also a city of contradictions. In the summertime, thousands of tourist dollars are spent downtown every day, while blocks away, communities languish. It takes only three minutes by car to get from the west-side barrio to the plaza, but for many Boys & Girls Club members, that trip can take a lifetime.
how we began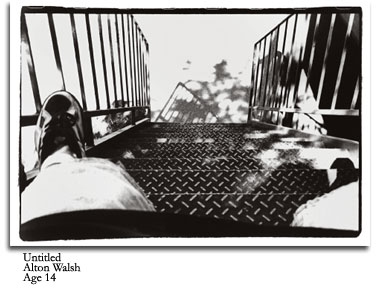 Designed as a gang diversion program, Reality from the Barrio began in 1992 as a simple idea: every youth at the Santa Fe Boys & Girls Club had an extraordinary story to tell, and we wanted each to be able to tell that story, in pictures. Twelve kids, ages ten to seventeen, began working on the project, and though the subject was rich with potential, our equipment was meager. We began with only two cameras, two antiquated enlargers, a tiny, poorly ventilated darkroom, a lot of duct tape, and even more determination. The first year we had only enough money to purchase processing chemicals, and we resorted to soliciting the remaining materials from the community. What we were able to acquire was far from perfect. Most of the film had already been shot, leaving only a few exposures per roll and the majority of the photographic paper was fogged and unusable. The few sheets capable of holding images produced discolored and flat photographs. These material limitations greatly circumscribed the artistic and expressive potential of the medium.


When we decided to exhibit the first photographs, we ran into financial roadblocks again. Unable to purchase matboard, frames, or even find a gallery interested in displaying the work, we painted old discarded doors and windows to frame the photographs, and matted them with silver duct tape. The first exhibition was hung with chains from the rafters at the Boys and Girls Club. The creative use of other people's trash turned into an artistic triumph, and the title of the show, Reality from the Barrio, became two-fold. Not only the subject matter but also the materials, or lack thereof, expressed barrio realities.

The show's notability drew the attention of the Santa Fe Community Day celebration and the local Villa Linda Mall allowed it to reach a broader audience. But this opportunity soon turned to heartbreak when patrons pulled photographs and artwork with gang-related themes. Other censored works included images that depicted lowriders, religious references, and even those titled in the Spanish language. The pulling of this work called these Boys & Girls members to battle, as they desired to bring awareness and reality to the community attempting to define "appropriate" art in a culturally exclusive manner. The result is this book.


The content and focus of the project was left entirely to the youth themselves to create and form. What emerged was a story that did encompass gangs, but focused more notably on family, culture, religion, and community. The photographs, poetry and prose shared in this book are bridges between worlds that seldom meet and often misinterpret one another. Tremendous support ultimately flowed in for these artists, particularly from Mayor Debbie Jaramillo and her administration, and from uncensored invitations to such prestigious locations as City Hall, the New Mexico Museum of Fine Arts, and the Ella Canta Gallery.

It is important to learn about and validate all cultures within our communities. For, through ignorance, we often promote racism no matter what our intentions. There is much to learn from the Boys and Girls Club members as they share their stories and their examples of how circumstances did not hinder their creativity and spirit. Therefore, for the commitments made to the barrio youth—and for those very special people who followed through on their promises—we are especially grateful. After all, in the barrio, El respeto es todo—Respect is everything!